General Description:
The genus Anthocercis comprises about 20 species, all Australian endemics, with about half occurring in Western Australia.
Anthocercis littorea is an erect or sprawling shrub from 0.6 to about 3 metres high. The leaves are oblong in shape to about 40 mm x 15 mm and dull, greenish-grey in colour and may be slightly toothed. The yellow flowers are tubular in shape, about 12 mm in diameter but with 5 widely spreading lobes. The throat is streaked with purple. Flowering usually occurs in summer but flowers may be seen at other times.
Anthrocercis, generally has received little attention in cultivation although some members of the genus are certainly worth a place in the garden. A.littorea is probably one of the most attractive because of its moderate size and conspicuous flowers. It would probably be best suited to areas with a Mediterranean-type climate (wet winter/dry summer) and may be difficult to maintain in more humid areas of the east coast. A sunny or semi-shaded location would probably be suitable in soils with good drainage.
Limited information is available regarding the best means of propagation. Seed is unlikely to be easily obtained but cuttings of hardened, current season's growth should strike reasonably well.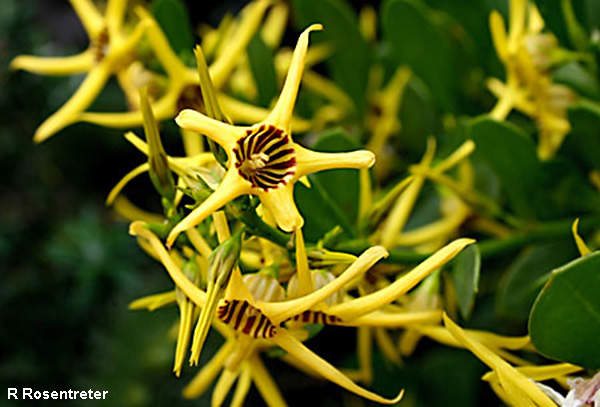 Anthocercis littorea
Photo: Roger Rosentreter