Australian Native Seed Suppliers
The following information has been compiled from details supplied by the various suppliers. All companies supply overseas customers unless otherwise indicated.
OVERSEAS GROWERS PLEASE NOTE:
Many countries require Phytosanitary Certificates to accompany any consignment of seed to certify that the seed is free of disease and insect/fungus pests. Companies which export seed will arrange for the necessary documentation, however, the cost will be passed on to the customer. The cost varies depending on the company involved. Anyone ordering from overseas should check the import requirements of their own country and, when ordering, ensure that the company is advised if a Phytosanitary Certificate is needed.
To telephone or fax any of the companies from overseas, dial your International Access Code, then dial the Australian Country Code (61), then the Australian phone number without the first zero of the Area Code. For example, to dial the Australian phone number (02) XXXX XXXX from the USA, you would dial 011 61 2 XXXX XXXX.
If you contact any of these suppliers, please let them know where you found out about their services.
CSIRO Australian Tree Seed Centre
The Australian Tree Seed Centre has seed for more than 700 tree species available, including Acacia, Eucalyptus, Casuarina and Melaleuca.  A catalogue is available.
---
---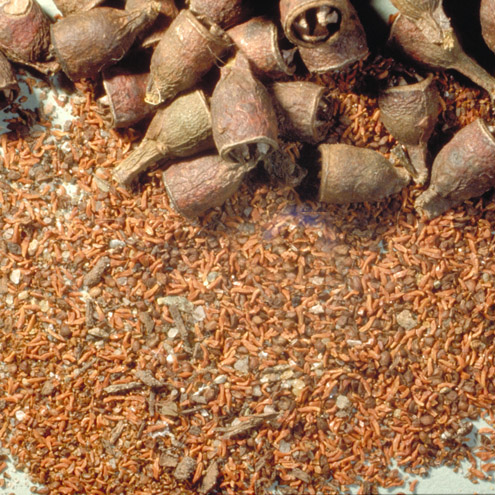 AustraHort Pty Ltd
PO Box 595, CLEVELAND, Queensland, 4163
Phone: (07) 3821 0745
Fax: (07) 3821 0746
Website: https://www.austrahort.com.au/
Email: info@austrahort.com.au
AustraHort supplies both bulk and small lots of Australian plant species including seeds and seedlings of trees, shrubs, palms and pasture seeds. The company can supply seed for forestry projects, the revegetation of degraded lands and general horticulture. Seed can be ordered using the on-line catalogue.
---
Australian Seed Company
PO Box 67, HAZELBROOK, NSW 2779
Phone: (02) 4758 6132
Fax: (02) 4758 7022
Website: https://www.ausseed.com.au/
Email: info@ausseed.com.au
This company supplies seed from a wide range of Australian trees, shrubs, ground-cover plants and wildflowers. Over a thousand Australian native species are represented, particularly from temperate and cooler regions and arid zones. The company has exported seeds world-wide since 1957 and regularly supplies many nurseries and Government organisations within Australia.
---
Australian Wildflower Seeds Pty Ltd
PO Box 606, DONNYBROOK, WA, 6239
Phone: (08) 9731 6801
Website: https://wildseedaustralia.com.au/
Email: info@wildseedaustralia.com.au
Based in Perth, Australian Wildflower Seeds package and distribute seeds of native plants in small retail packets to retail nurseries and other retailers around the country. The company also provide a mail order service to individual customers around Australia and overseas.
---
Diversity Native Seeds
COONABARABRAN, NSW
Phone: (02) 6842 2959
Website: https://diversitynativeseeds.com.au/
Email: info@diversityseeds.com.au
Diversity Native Seeds supplies a wide range of native seed including tree, shrub, grass and wildflower species.
---
Ellison Horticultural Pty Ltd
267 Rous Road, ALSTONVILLE, NSW 2477
Phone: (02) 6629 5788
Fax: (02) 6629 5766
Website: http://www.ellisonhort.com/
Email: sales@ellisonhort.com.au
Ellison Horticultural is an established supplier of tree, shrub and palm seed and seedlings.
---
GHEMS Revegetation Environmental
4 Duffy St, BASSENDEAN, WA, 6054
Phone: (08) 9373 7100
Website: https://www.ghems.com.au/
Email: enviro@ghems.com.au
Professional and contracting services company in the specialised fields of native seed supply, revegetation, natural area management, contract planting and erosion control.
---
Harvest Seeds & Native Plants
281 Mona Vale Road, TERREY HILLS, NSW 2084
Phone: (02) 9450 2699
Fax: (02) 9450 2750
Website: https://www.harvestseeds-nativeplants.com.au/
Email: marina@harvestseeds-nativeplants.com.au
Harvest Seeds collects, supplies and exports an extensive range of native and exotic tree, shrub and wildflower seeds and offer Grow-Cell seedlings and plants including native grass seedlings. Species endemic to the Sydney area are a specialty. A comprehensive seed catalogue and periodical seedling/plant list are available.
---
Kimseed Australia
3/61 Buckingham Drive, WANGARA, Western Australia 6065
Phone: (08) 9409 2244
Website: https://www.kimseed.com.au/
Email: seeds@kimseed.com.au
Australian Supplier of Native Seeds and Seed Processing Machinery. Kimseed supplies to local and export markets – Western Australian Natives, Mine/Land Revegetation Provenance Seeds, Saltland Tolerant Seeds and Pasture Seeds.
---
Merrywood Seeds and Plants
NORTH NOWRA, NSW, 2541
Phone: (02) 4421 0731
Mobile: 0477 056 160
Website: https://www.merrywoodseedsandplants.com/
Email: go74116@bigpond.net.au
Supplier of a wide range of Australian native and exotic tree, shrub, grass and palm seeds.
---
Native Seeds Pty Ltd
34/148 Chesterville Road, CHELTENHAM, Victoria 3192
Phone: 1300 473 337
Website: https://nativeseeds.com.au/
Email: enquiries@nativeseeds.com.au
Native Seeds specialises in growing and selling high quality seed of Australian native grasses and a range of other native species.
---
Nindethana Seed Service
PO Box 2121, ALBANY, Western Australia, 6331
Phone: (08) 6819 6400
Website: https://www.nindethana.net.au/
Email: seed@nindethana.net.au
Nindethana Seed Service is part of Greening Australia (WA) and supplies a large range of Australian native plant seeds, with over 3000 species available. The company caters for both the amateur grower by supplying small packets and the commercial grower with bulk supplies of most species.  Please note that the company has ceased its international order service and is no longer an overseas supplier.
---
R and K Horner
1 Grundy Street, ALICE SPRINGS, Northern Territory, 0870
Email: horner237@ozemail.com.au
This company specialises in seeds of plants from central Australia.
---
Red Dirt Seeds
1536 Porongurup Rd, MOUNT BARKER, Western Australia, 6324
Mobile: 0427 985 322
Website: https://www.reddirtseeds.com.au/
Email: reddirtseeds@activ8.net.au
Red Dirt Seeds specialises in revegetation and rehabilitiation of mine sites in Western Australia. Seeds are harvested from existing vegetation from around each mine site and stored in our facility.
---
Royston Petrie Seeds Pty Ltd
14 Industrial Avenue,
P.O. Box 1152 MUDGEE, NSW 2850
Phone: (02) 6372 7800
Fax: (02) 6372 7077
Website: https://rpseeds.com.au/
Email: roseed@bigpond.net.au
Royston Petrie is a wholesale supplier to revegetation companies, forestry plantation companies, nurseries and the general public located within Australia and overseas. Stock includes Australian native trees and shrubs, native grasses and ferns, exotics, flowers, proteas and herb seeds. Hours – 8.30am to 4.30pm Monday to Friday.
---
Seeding Victoria
PO Box 3, CRESWICK, Victoria, 3363
Phone: (03) 5345 2200
Fax: (03) 5345 1357
Website: https://www.seedingvictoria.com.au/
Email: dan@seedbank.com.au
The organsiation provides seed for much of central, south west and western Victoria with seed banks and seed supply for Corangamite, North Central, Wimmera, Upper Glenelg Hopkins, and the Werribee Catchment through our Creswick, Swan Hill and Wimmera locations.
---
Seed Shed
PO Box 606, DONNYBROOK, Western Australia, 6239
Phone: (08) 9732 1152
Website: https://www.seedshed.com.au/
Email: enquiry@seedshed.com.au
Seed Shed collects, processes and packs a wide range of Australian native seeds which are then available for commercial rehabilitation projects & nurseries across Australia.
---
Seedworld Australia Pty. Ltd.
PO Box 1408, NOWRA, NSW 2541
Phone: (02) 4423 0894
Fax: (02) 4423 5200
Website: https://www.seedworld.com.au/
Email: sales@seedworld.com.au
This is a recently formed company which supplies a diverse range of Australian native seed – from bulk Eucalyptus seed to Kentia palm seed. Seedworld can meet its customers requirements. New enquiries welcome.
---
Wildseed Tasmania
91 Weston Hill Rd, SORELL, Tasmania, 7172
Phone: (03) 6265 2651
Website: https://www.wildseedtasmania.com.au/
Email: info@wildseedtasmania.com.au
Wildseed Tasmania supplies seed and spore from the widest range of Tasmanian native trees, shrubs, grasses, ground covers, climbers and ferns.