Australian Native Plants Available As Cut Flowers or Foliage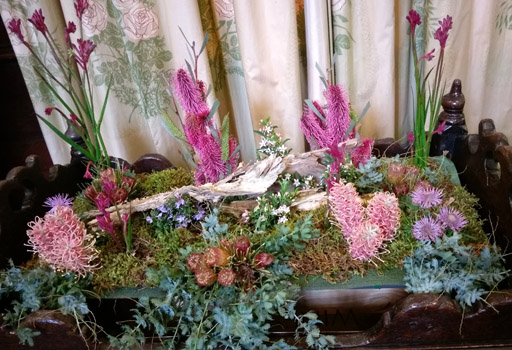 A wide variety of Australian native plants are ideal for use as cut flowers or foliage and many retain their beauty and form for long periods when used in this way. To date, only a relatively small range of native species are commonly available, but there are a number of others that are now being cultivated.  Hopefully an expanded range of Australian species and cultivars will become available in the near future.
An existing problem, however, is a common misunderstanding among members of the public, and even among some professionals, regarding 'true' native species. The use of plants such as Protea, Leucadendron and Leucospermum (all native to South Africa) in 'native' floral arrangements contributes to this confusion.
Tables 1 and 2 below illustrate the many true Australian native species, hybrids and cultivars that are useful as cut flowers and/or foliage. Table 3 lists several exotic species that are often mistakenly sold as Australian natives.
Please note that this page is a 'work-in-progress' and it will be updated as new information comes to hand.
Table 1: Native species that are commonly available as cut flowers or foliage
To view a larger photograph of a particular plant, click on the thumbnail image
Botanical Name

Common Name

Season

Colours

Image

 Acacia baileyana

 Cootamundra Wattle or Mimosa

W

 Yellow, silver foliage

 Acacia cultriformis

 Knife-leaf wattle

 Foliage

 Alpinia caerulea

 Native Ginger

 Anigozanthos

 Kangaroo paw, includes hybrids

Sp, Su

 Red, Yellow, orange

 Banksia baxteri

 Bird's Nest Banksia

S, Au

 Green & gold

 Banksia burdetii

 Burdett's Banksia

Sp, Su, Au

 Orange

 Banksia coccinea

 Scarlet Banksia

Sp, Su

 Red

 Banksia formosa
(syn. Dryandra formosa)

 Showy Dryandra

Sp

 Gold

 Banksia heliantha
(syn. Dryandra quercifolia)

 Oak-leaved Dryandra

Au, W

 Gold

 Banksia menziesii

 Menzies' Banksia

Au, W

 Pinkish/lavender

 Banksia plagiocarpa

 Hinchinbrook Banksia

 Bluish in bud

 Banksia prionotes

 Acorn Banksia

A, W

 Orange

 Banksia speciosa

 Showy Banksia

Su, Au

 Cream to yellow

 Banksia undata
(syn. Dryandra praemorsa)

 Urchin Dryandra

Sp

 Yellow/Gold

 Banksia victoriae

 Woolly Orange Banksia

Su, Au

 Orange

 Boronia heterophylla

 Red Boronia

Sp

 Deep pink

 Boronia megastigma

 Brown Boronia

Sp

 Brown or Yellow

 Caustis species

 Curly sedge

 Chamelaucium uncinatum

 Wax flowers. Hybrids and cultivars

Sp

 White, pink, purple

 Doryanthes excelsa

 Gymea Lily + leaves

Sp + all

 Red flowers. Large green leaves

 Doryanthes palmeri

 Spear Lily leaves

All

 Large green leaves

 Eucalyptus caesia

 Gungurru, 'Silver Princess'

W, Sp

 Pink, silver buds

 Eucalyptus crucis

 Southern Cross Mallee

All

 Silver foliage

 Eucalyptus pulverulenta

 Silver-leaved Mountain Gum

All

 Blue/silver foliage

 Eucalyptus pleurocarpa
(syn. Eucalyptus tetragona)

 Tallerack

All

 Large blue foliage, buds

 Grevillea cultivars

 Various

 Ozothamnus diosmifolius

 Rice Flower

Sp, Su

 White, pink

 Philotheca myoporoides

 Bendigo Wax Flower

Sp

 White

 Pycnosorus globosa

 Billy Buttons

Sp, Su

 Restio species

 Rushes

 Grass-like foliage

 Telopea speciocissima & cultivars

 Waratah

Sp

 Red, pink, white

 Thryptomene calycina

 Heath Myrtle

W

 Pink

 Thryptomene calycina

 Heath Myrtle

W

 White

 Thryptomene ericaea

 Kangaroo Island Thryptomene

W

 White – shorter stems

 Verticordia – various species

 Feather Flowers

Sp, Su

 White, pink, red, yellow

 Xanthorrhea species

 Yacca leaves

All

 Green
Table 2: Native species of limited availability
To view a larger photograph of a particular plant, click on the thumbnail image
Botanical Name

Common Name

Season

Colours

Image

 Acacia aneura

 Mulga Wattle

All

 Actinotus helianthi

 Flannel Flower

Sp, Su

 White

 Adenanthos sericeus

 Wooly Bush

All

 Foliage

 Banksia robur

 Swamp Banksia

W

 Greenish-yellow

 Beaufortia sparsa

 Swamp Bottlebrush

Sp

 Orange/red

 Blandfordia species

 Christmas Bells

Sp

 Red/yellow

 Bowenia serrulata

 Byfield Fern

W

 Green leaves

 Ceratopetalum gummiferum

 NSW Christmas Bush

Su

 Red

 Corymbia ficifolia

 Red Flowering Gum

Su

 Red

 Crowea exalata

Su, Au

 Pink form

 Crowea exalata

Su, Au

 White form

 Eremophila nivea

 Silky eremophila

Sp, Su

 Mauve; silvery foliage

 Eucalyptus albida

 White-leaved Mallee

 Silver foliage

 Eucalyptus crenulata

 Silver Gum

 Eucalyptus erythrocorys

 Red-capped Gum

Au,W

 Red buds

 Eucalyptus gamophylla

 Blue-leaved Mallee

 Bluish-grey foliage and buds

 Eucalyptus kingsmillii

 Kingsmill's Mallee

 Buds

 Eucalyptus pachyphylla

 Red-budded Mallee

 Red buds

 Eucalyptus perriniana

 Spinning Gum

 Silver-grey foliage

 Grevillea 'Moonlight'

All Year; especially Sp, Su

 White

 Grevillea 'Superb'

All Year; especially W, Sp

 Salmon pink to red

 Hakea francisiana

 Grass-leaved Hakea

W, Sp

 Red

 Isopogon cuneatus

 Coneflower

W, Sp

 Pink

 Kunzea ambigua

 Tick Bush

Sp

 White

 Leptospermum cultivars

 Tea Trees

Sp

 Pink, red, white

 Maireana sedifolia

 Bluebush

All

 Foliage

 Ptilotus species

 Mulla Mulla

W, Sp, Su

 Pink

 Rhodanthe chlorocephala

 Pink Everlasting Daisy

W, Sp

 Pink

 Scholtzia species

Sp

 White or pink

 Schoenia filifolia

 Showy Everlasting

Sp, Su

 Yellow

 Verticordia grandis

 Scarlet Featherflower

Sp, Su

 Red

 Verticordia plumosa

 Plumed Featherflower

Sp, Su

 Pink to mauve

 Xerochrysum bracteatum
Cultivars and hybrids

 Paper Daisies

Sp, Su, Au

 Yellow, bronze, brown
Table 3: Non-native species that are often mistakenly sold as Australian natives
| | | | |
| --- | --- | --- | --- |
| Botanical Name | Common Name | Colours | Native to…. |
|  Erica species and cultivars |  Heaths |  Red, pink or white |  Africa, Madagascar, Europe. |
|  Leucadendron species and cultivars | |  Pink or white |  South Africa |
|  Leucospermum species and cultivars |  Pincushion Protea |  Yellow or orange |  South Africa |
|  Protea species and cultivars |  Protea |  Pink or white |  South Africa |
|  Serruria florida |  Blushing Bride |  White |  South Africa |
Footnotes
References
Growing Australian native flowers commercially; NSW Department of Primary Industries
Angus's Top Ten Australian Plants for Cut Flowers; Angus Stewart
Australian Plants as Cut Flowers; James Frew – Australian Plants online