General Description:
Acacia amblygona is a small, spreading shrub ranging from completely prostrate in habit to about 1.5 metres high. The phyllodes are generally ovate to elliptical up to 150 mm long, tapering to a sharp (pungent) point. The bright yellow flowers occur in globular-shaped clusters in the phyllode axils during winter and spring. The flowers are followed by seed pods about 50-70 mm long which are curved or twisted in shape.
The prostrate form of A.amblygona (sometimes sold under the name 'Winter Gold') has been in cultivation for many years. It is a reasonably hardy ground cover which can spread to about 1-1.5 metres in diameter and is very spectacular when in flower. It prefers well drained soils in a sunny position. The upright forms are rarely seen in cultivation.
Propagation is relatively easy by normal seed raising methods following pretreatment by soaking in boiling water or by scarification. Cuttings are also reasonably successful and this is the only method that should be used for the prostrate form to be sure of retaining the prostrate habit.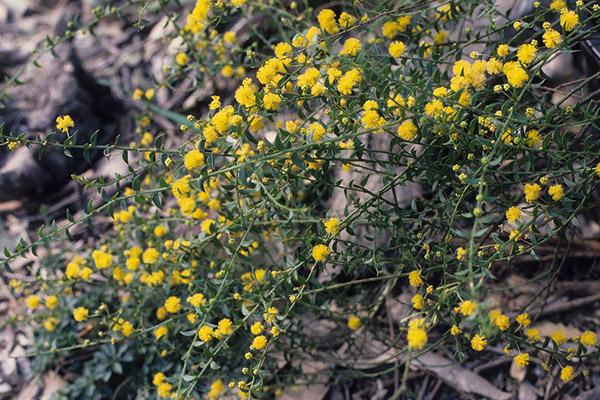 Acacia amblygona
Photo: Brian Walters