General Description:
Indigofera is genus of about 700 species of which about 30 are found in Australia. The most commonly encountered species is I.australis which occurs in all Australian states.
Indigofera pratensis is a dwarf perennial herb, 0.3-0.6m high with a woody rootstock. The leaves are pinnate, about 10cm long, with 13-21 egg-shaped to narrowly oblong leaflets which are greenish and hairy. The new growth is pale and hairy.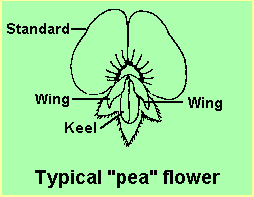 The flowers are pea-shaped, bluish-purple to reddish, about 0.6cm across. Pea flowers consist of 4 petals; the "standard", the "keel" and two "wings" as shown in the diagram.
Although not widely cultivated, I.pratensis should be suited to tropical and subtropical gardens. In the wild it withstands bushfires, regrowing from the woody rootstock.
Propagation from seed is relatively easy following pre-treatment to break the physical dormancy provided by the impervious seed coat. Pre-treatment can be carried out by abrasion or by the use of boiling water (further details can be found in under the "Propagation" tab of the "Pea Family" page). Cuttings should also be successful.
Indigofera pratensis
Photo: Keith Townsend